Air Compressor Guide: Everything you need to know about air compressors
Improve your compressed air system, troubleshoot your air compressor, and stop throwing money away. That's what air-compressor-guide.com is about.
Looking for advice on the good operation of your air compressors and compressed air equipment? You've come to the right place.
Welcome to Air Compressor Guide!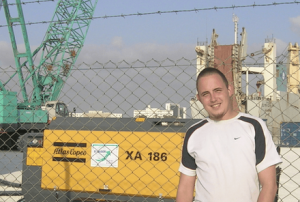 Newsletter
I help compressor owners (and anybody working with compressed air systems) optimize their compressed air system, in order to increase production uptime and lower maintenance and running costs
Signup to my newsletter and I will keep you updated. Unsubscribe at any time.
Air Compressor Troubleshooting
Even the best compressors fail sometimes. Is your air compressor acting up? Check out on of these pages to het started:
Got a rotary screw compressor amd want to fix problems quickly? Get my Air Compressor Troubleshooting Guide!
Testimonials
Thank you for the in depth analysis of our issue and the easy to follow step. You have a great talent for explaining in easy to follow language...thanks
I was desperate enough to try something that will help the factory from being down for long. As a result of buying the guide, we got access to you (Cas), which basically is what helped us troubleshoot the problem. We tried what you told us in an email and it worked. Thank you! For individuals, it may be a little expensive, for us it is worth it.
Very well organized and complete. All materials are well presented and the technical language is very clear.

The perfection of this guide is the result of passion, competence, perseverance and hard work of site's author.
Constantin Sandu
United Kingdom
I downloaded it and it's awesome. I have to maintain 103nos of air compressors which includes 73nos of screw compressors (atlascopco, compair & boge brands) in our hospital medical gas systems. So I think this guideline will help me to find and rectify problems easily. Thanks again for this.
I am very happy with your manual. It's great for troubleshooting any type of machine. Your manual helped me figure out what was wrong with a machine that others had given up on.
Just received your book and it is fantastic. I operate 25 diesel powered compressors in twenty countries ranging from 375 to 1100 CFM. Thanks for writing it!
Gary Evans
Living Water International​
I purchased a copy of your air compressor trouble shooting book. It is excellent. You have put a lot of home work into this whole program and it is of great benefit. Many thanks
Jim Bulloch
Pneutech Australia
I am the owner of a compressor company as well and I want to COMPLIMENT YOU ON YOUR PUBLICATIONS. It helped me out on many occasions as I can not always be with my NEW YOUNG Technicians all the time and hold their hands and when they have to "FLY SOLO" . Now they have the freedom of using your Guide as learning course and making mistakes and FIXING by yourself is the only way to build confidence and gain knowledge and it also ensures NO COME BACKS due to inexperienced technicians as they have the tools to do the JOB.
I just bought you book (Hard copy and download) on rotary compressors. It is fantastic!!! I did a fast cursory read of the download, and it was great. This is the way all Tech book should be written. It is straight forward, no nonsense with great insight. I have been doing industrial millwright work for over 45 years. Great Job – I signed up for your upcoming work.
Stan Hart
S&C Electric Sacramento, CA, USA
I didn't have any issues with our compressor... I mainly bought it as a learning guide as I am inexperienced with compressors. I looked over the book and liked the troubleshooting flow charts. I believe I will be able to use them in the future. Overall I thought the guide was good and worth the money.